We encourage all of our Ministry Teams and Small Groups to choose a Mission project of their own. We hope this model of Congregational Leaders being actively involved in putting our Faith into Action will encourage all of our members and friends to be involved in personal Faith into Action projects. If you have ideas for projects or if you know of a project that needs our help, please submit your ideas to the mission team. We are currently planning a trip to West Virginia in 2017.
January 2016: PNEC Disaster Ministries Mission trip to South Carolina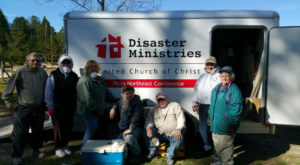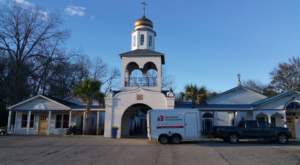 The national UCC purchased and completely stocked 2 utility tool trailers to be used for disaster relief and mission work by churches in Penn Northeast Conference for our Pennsylvania area. However due to the dire need in South Carolina from the storms and flooding this past fall, these tool trailers found a temporary home in West Columbia, SC, to begin the process of restoration in that state. It often takes several months of planning to organize the logistics for people to come to an area to aide when disaster strikes.
A small group from PNEC (including Grant and Donna Field) traveled to South Carolina to spend a week working at the Holy Apostles Orthodox Church, which is being renovated to accommodate the contingent of volunteers that will be coming to aid the residents in an ongoing rebuilding effort. This is your United Church of Christ in action!
Other Recent Mission Trips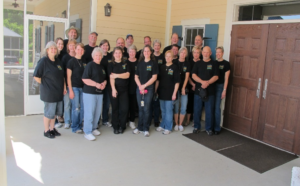 Back Bay, 2012
Local (Community) Projects
We invite you to help us in working for Christ within our wider community by supporting the following agencies with your gifts and time: Phoebe Home, Lehigh County Conference of Churches, Ecumenical Soup Kitchen, Meals on Wheels, Lehigh Valley Hospice, OCWM, NIN, hurricane relief, the conference roof, Angel Tree Ministries, American Cancer Society, Family Promise of Lehigh County, and Kidspeace.  We also provide facilities for our community groups such as the Boy Scouts and Cub Scouts and the Greenawalds Nursery School, and sponsor special community events. Each week we collect non-perishable food items for the ecumenical food bank.  The collection box is located in the hallway across from the Pastor's office.