September 2017 Mission Trip To Webster Springs, West Virginia
A mission team from UCC Greenawalds traveled to Webster Springs, West Virginia, to help those affected by the floods in 2016. Here is an excerpt from our church newsletter, describing their work:
Monday thru Thursday were steady work days, helping senior citizens who were unable to do work themselves to restore their homes from flooding that ran down the mountains into the valley below. We were able to meet and work with the homeowners, which often does not happen, so this was a fulfilling experience of sharing personal stories of trauma and survival. We cleaned, sanded, painted a front porch and stairs needing a new step. On a back porch the length of the house, we sanded and painted ceiling, posts and trim, then stained the main porch. Storm doors were hung to complete the renovation to this house that had been completely rebuilt on the inside.
At another location, an elderly gentleman befriended us and offered to supply his tools, as we assembled kitchen base cabinets, fixed his lazy susan in a cabinet, hung shelves, nailed molding in two rooms, installed door jams and hung folding doors at the bedrooms, installed a medicine cabinet with lights in the bathroom, hung a storm door, and completely tore out and installed a new door and frame in concrete block – what a job!! But his house was completed!
A third house was next to a stream and still had debris inside, but some sanding and spackling was required in the kitchen, as this was the first room to be renovated. We had time to explore the mountain view at Curtin Lookout and the logging camp below, experienced the Quarter Store, The Custard Stand, and the quaint Visitors Center where we heard stories from the residents in town and some of us learned about "ramps."
This was a labor of love to people who genuinely needed help and were so appreciative of the work we did there. Our shirts said "God's Work, Our Hands" and that is exactly what we did . . .
PNEC Disaster Ministries Mission trip to South Carolina
In January 2016, a small group from PNEC (including Grant and Donna Field) traveled to South Carolina to spend a week working at the Holy Apostles Orthodox Church, which is being renovated to accommodate the contingent of volunteers that will be coming to aid the residents in an ongoing rebuilding effort. This is your United Church of Christ in action!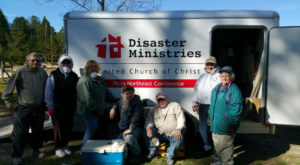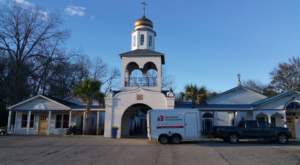 The national UCC has purchased and completely stocked 2 utility tool trailers to be used for disaster relief and mission work by churches in Penn Northeast Conference for our Pennsylvania area. It often takes several months of planning to organize the logistics for people to come to an area to aide when disaster strikes.
Local (Community) Projects
We invite you to help us in working for Christ within our wider community by supporting the following agencies with your gifts and time: Phoebe Home, Lehigh County Conference of Churches, Ecumenical Soup Kitchen, Meals on Wheels, Lehigh Valley Hospice, OCWM, NIN, hurricane relief, the conference roof, Angel Tree Ministries, American Cancer Society, Family Promise of Lehigh County, and Kidspeace.  We also provide facilities for our community groups such as the Boy Scouts and Cub Scouts and the Greenawalds Nursery School, and sponsor special community events. Each week we collect non-perishable food items for the ecumenical food bank.  The collection box is located in the hallway across from the Pastor's office.
FAITH IN ACTION!
We encourage all of our Ministry Teams and Small Groups to choose a Mission project of their own. We hope this model of Congregational Leaders being actively involved in putting our Faith into Action will encourage all of our members and friends to be involved in personal Faith into Action projects. If you have ideas for projects or if you know of a project that needs our help, please submit your ideas to the mission team.